de
Hallo! Wir freuen uns, Sie kennen zu lernen. Sie haben Fragen rund um das Buch? Oder benötigen Hilfe? Gerne können Sie uns direkt kontaktieren: hello@prototypinginterfaces.com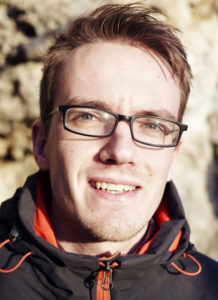 Jan Barth studierte Interactiondesign an der Hochschule für Gestaltung in Schwäbisch Gmünd. Von 2012 bis 2017 arbeitete er als Interaction Designer bei Ziba Design im wunderschönen Portland, Oregon wo er digitale Produkte und Services für führende Unternehmen in den unterschiedlichsten Gebieten gestaltete. Seit seiner Rückkehr in die Heimat, in 2017, arbeitet er bei Intuity Media Lab in Stuttgart. Seine Ideen und Konzepte kommuniziert und testet er am liebsten anhand von schnellen interaktiven und iterativen Skizzen. Je nach Anforderung, können hier die unterschiedlichsten Werkzeuge zum Einsatz kommen. Besonders faszinieren ihn die Möglichkeiten die sich ergeben, wenn sich die Welt des digitalen mit dem Charm und der Einfachheit des analogen vermischt.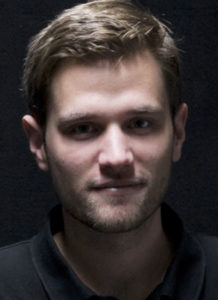 Roman Stefan Grasy studierte Interaction Design an der Hochschule für Gestaltung in Schwäbisch Gmünd. Er arbeitet seit 2012 bei Intuity Media Lab in Stuttgart als Interaction Designer und Projektmanager an Human Machine Interfaces und digitalen Services. Seine Stärken liegen im Bereich Informationsarchitektur, Konzeption, Beratung, Entwicklung von Prototypen und der Leidenschaft zum Experiment. Angetrieben davon, Technologien zu reflektieren und Innovationen zu entdecken, sind interaktive Skizzen für ihn ein fester Bestandteil im Entwicklungsprozess. Gute Ideen, die er über Prototypen kommuniziert, schaffen Erkenntnisse, reflektieren Ideen und begeistern Menschen.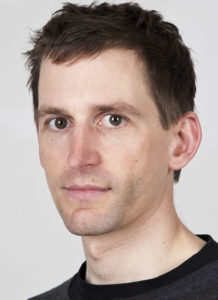 Jochen Leinberger studierte Produktdesign an der HfG in Offenbach. Seine Leidenschaft ist die Entwicklung neuer Produkte und Technologien um Probleme zu Lösen, und das Unmögliche möglich zu machen. Nach dem Studium arbeitete er bei MESO Digital Interiors an der Konzeption und Entwicklung von Medienräumen, Exponaten und Prototypen. Daneben lehrte er Interaction Design an der Kunsthochschule Kassel und der HfG Offenbach. Aktuell konzipiert und entwickelt er neue Produkte und Services in der T-Gallery, dem Zukunftsforum der Deutschen Telekom.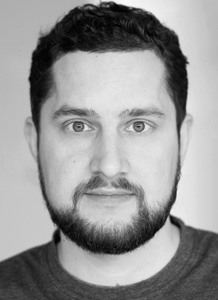 Mark Lukas studierte Kommunikationsgestaltung an der Hochschule für Gestaltung in Schwäbisch Gmünd. Seine gestalterischen Interessen liegen in den Spannungsfeldern zwischen digitalen Interfaces, Informationsgestaltung, Konzeption von Mobilitäts Services und klassischen Printmedien. Diesen ging er in seinem Masterstudium im Interfacedesign an der FH Potsdam nach, aus dem die Arbeit Smelling Data entstand. Seit 2016 arbeitet Mark als User Experience Designer im Volkswagen Group Future Center Europe in Potsdam an Mobilitätskonzepten für selbsfahrende Fahrzeuge.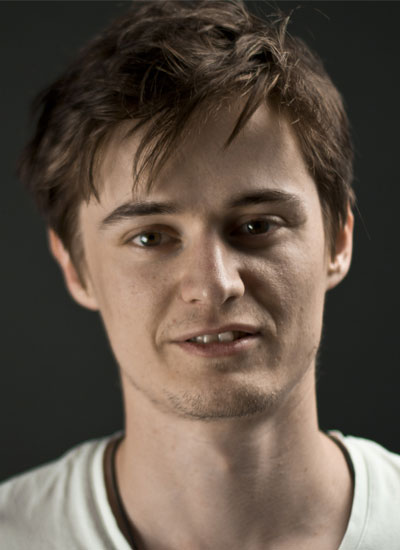 Bevor Markus Lorenz Schilling Vancouver BC zu seinem natürlichen Lebensraum erklärt hat, lebte er in Deutschland. Dort erhielt er seinen Bachelor of Arts in Interaktionsgestaltung an der Hochschule für Gestaltung in Schwäbisch Gmünd und arbeitete für Intuity Media Lab in Stuttgart. Markus bevorzugt es, angewandt zu arbeiten und liebt Projekte, bei denen es um Tangible Interfaces, SID, DIY, Everyday Design und Design Teaching geht. Heute kann er die meiste Zeit im Everyday Design Studio gefunden werden, wo er an verschiedenen Projekten und an seiner Master Thesis arbeitet, oder versucht, seinen Forschungsbereich zu definieren, indem er seine gestalterischen Interessen verbindet.

gb
Hello there! Nice to meet you! If you have any questions about the book, or you need help with the patches, don't hesitate to shoot us an E-mail: hello@prototypinginterfaces.com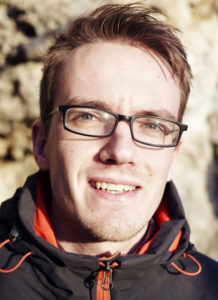 Jan Barth studied Interaction Design at the University of Applied Sciences in Schwäbisch Gmünd, Germany. From 2012 to 2017 he worked as an Interaction Designer at Ziba Design in beautiful Portland, Oregon – where he designed digital products and services for leading companies in various different fields. Since his return to Germany in 2017 he works at Intuity Media Lab in Stuttgart. He prefers to share and test his concepts with the help of fast interactive and iterative sketches. Therefore he uses all kinds of different tools based on the individual needs of the project. He is especially fascinated by the possibilities that emerge, when the digital world blends with the charm of the analog.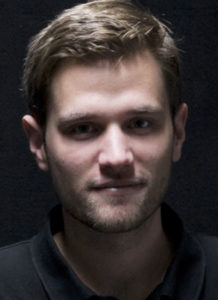 Roman Stefan Grasy studied Interaction Design at the University of Applied Sciences in Schwäbisch Gmünd. Since 2012 he works at Intuity Media Lab in Stuttgart as an Interaction Designer and Project Manager for Human Machine Interfaces and digital services. His strengths lie in the area of ​​information architecture, concept, consultation, development of prototypes and his passion for experiments. Driven by reflecting technologies and discovering innovations, interactive sketches for him are an integral part of his development process. Good ideas, he communicates via prototypes, create knowledge, reflect ideas and inspire people.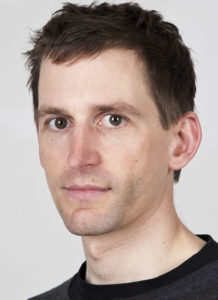 Jochen Leinberger studied Industrial Design at the HfG Offenbach. He is really excited about developing and inventing new custom-made technology which is focused on solving problems, improving life and making the impossible possible. Besides his work he gave lectures at Kunsthochschule Kassel and HFG Offenbach teaching the development of new interface concepts and interactive prototyping. After working 7 years at MESO Digital Interiors as Conceptual Designer for Physical Interaction, he started working as an UX Designer and for the Conception of new products and services at T-Gallery. T-Gallery is the Future Forum of Deutsche Telekom.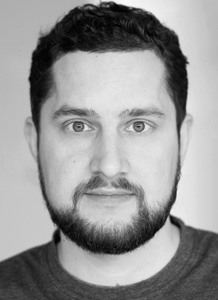 Mark Lukas studied Communication Design at Hochschule für Gestaltung in Schwäbisch Gmünd. He is particularly interested in the fields of tension between digital interfaces, information design, the design of mobility services. In his Master Studies of Interfacedesign at the University of Applied Sciences Potsdam, his Thesis Smelling Data was created. Since 2016 Mark is working as an User Experience Designer at the Volkswagen Group Future Center Europe in Potsdam developing future mobility services for selfdriving vehicles.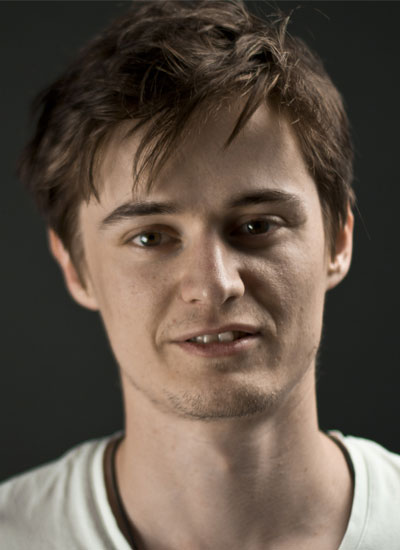 Before declaring Vancouver BC to be his natural habitat, Markus Lorenz Schilling lived in Germany. There he received his Bachelor of Arts in Interaction Design from the Hochschule für Gestaltung in Schwäbisch Gmünd and worked for Intuity Media Lab in Stuttgart. He prefers to get his hands dirty and loves to work on projects revolving around tangible interfaces, SID, DIY, everyday design, and design teaching. Most of the time he can be found in the Everyday Design Studio working on various projects, his MA thesis, or trying to define his field of design research by coupling his interests.