de
Touch-Anwendungen erfreuen sich großer Beliebtheit. Nicht ohne Grund verfügen viele modernen Geräte über einen Touchscreen. Wie Sie Ihre eigene Mutitouch-Applikation mit vvvv entwickeln können, zeigt Ihnen dieses Anwendungsbeispiel. So können Sie über mehrere Buttons verschiedene Karten auswählen und über eine Geste die Ausrichtung des Kartenmaterials beeinflussen.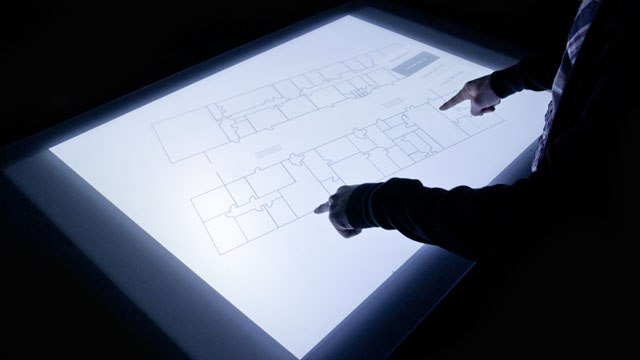 Hardware Tipps:
Für Trackinganwendungen eignet sich derzeit die »PlayStation Eye« Kamera besonders gut, da diese bis zu 120 Bilder pro Sekunde abrufen kann und preisgünstig zu erwerben ist. Um die PlayStation Eye Kamera mit Ihrem PC zu betreiben, muss zuerst der »Cl-Eye Platform Treiber« von Code »Laboratories« installiert werden.
Je nach Bauart der Kamera müssen Sie für einen Multitouch-Tisch den Infrarot Filter der Kamera entfernen. Eine Anleitung für die PS Eye können Sie unter folgendem Link finden:
Die Software »CCV« der NUI Group eignet sich besonders gut zum Auswerten des Kamerabildes.

gb
Touchscreen applications are very popular these days. Most of our modern devices use a touchscreen as an interface. This example shows you how to build your own multitouch application with vvvv. The application lets you switch between the maps of several levels of a building. Using a multitouch gesture, you can turn the map by 180°.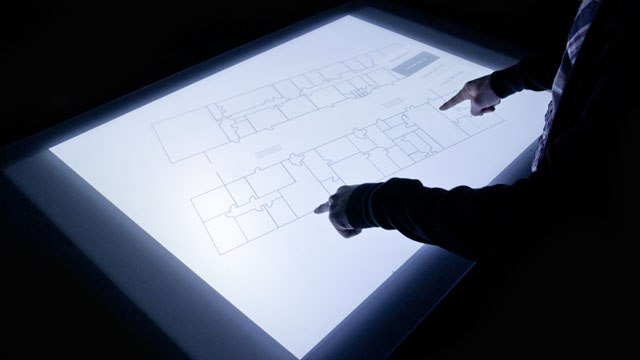 Hardware tipps:
The »PlayStation Eye« camera is particularly good for tracking applications, due to its high frame rate up to 120 fps. To use the PS3 Eye Camera with a PC, it is necessary to install the »Cl-Eye Platform driver« from »Code Laboratories«.
Instructions for how to remove the camera's infrared filter, as well as other multitouch necessities, can be found here:
The software »CCV«, from the »NUI Group«, does a great job in analyzing the video image and tracking of the finger tips.