de
Fiducial-Marker sind beliebte Vertreter des markerbasierten Trackings. In diesem Beispiel wird eine Deutschlandkarte mit drei markierten Städten auf eine Tischfläche projiziert. Der Marker dient dabei als Interaktionsmedium, um den Namen der jeweiligen Stadt aufzurufen.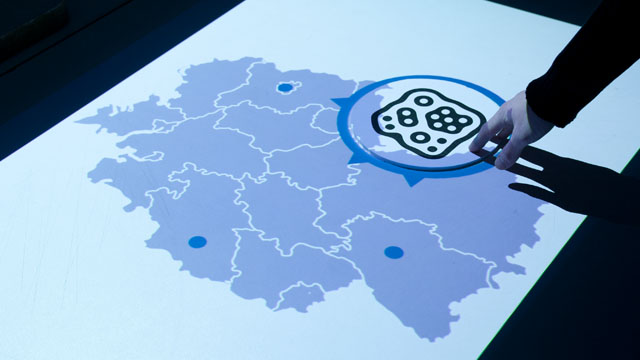 Hardware tipps:

Für Trackinganwendungen eignet sich derzeit die »PlayStation Eye« Kamera besonders gut, da diese bis zu 120 Bilder pro Sekunde abrufen kann und preisgünstig zu erwerben ist. Um die »PlayStation Eye« Kamera mit Ihrem PC zu betreiben, muss zuerst der »Cl-Eye Platform Treiber« von »Code Laboratories« installiert werden.
Fiducial-Marker sind in dem Patchpaket in verschiedenen Größen und im Buch bereits enthalten.
gb
Fiducial-marker can be used in many different scenarios, due to their easy use and reliability of the tracking results. In this example, the map of Germany gets projected onto a table. You can select different cities, by moving the marker on the table.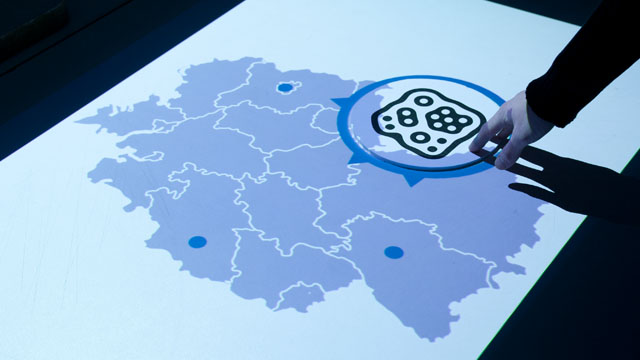 Hardware tipps:
The »PlayStation Eye« camera is particularly good for tracking purposes due to its high frame rate of up to 120 Fps. To use the camera with a PC, you have to install the »Cl-Eye Platform driver« from »Code Laboratories« first.